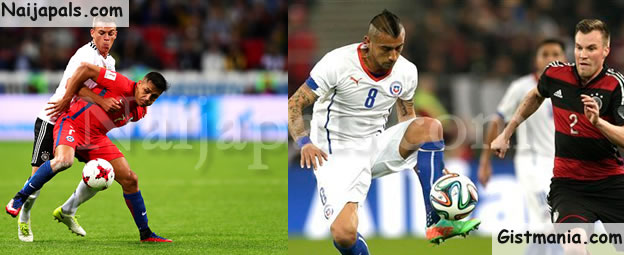 Chile VS Germany
Sunday (02/06/2017)
19:00 (WAT)
Sunday's Confederations Cup final, however, is a contest between two teams that have been a joy to watch over the past decade: World champions Germany and Chile, the two-time Copa America winners. That excitement hasn't come from just watching their matches, but also from observing their incredible progress during recent years.
Ten years ago, Germany were midway through Euro 2008 qualifying and, while they sealed qualification early from a weak group, they finished behind Czech Republic following a shock 3-0 defeat in Munich and a goalless draw against then-hopeless Wales in Frankfurt. They were finalists the following summer, but with an aging, immobile backline, as well as a functional attack overly reliant upon Michael Ballack's midfield bursts.
Chile were in an even worse position. They scraped through their 2007 Copa America qualifying group but then, the day after some of their players had been caught at a nightclub, were thrashed 6-1 by Brazil in the quarterfinal. The loss wasn't a great surprise, given Chile had been thrashed 5-0 away at the same opposition in 2006 World Cup qualifying. That was, put simply, their natural level.
Both countries have since undergone a quite dramatic revolution, based around producing and developing better players and combined with a proper identity for the international side.
Will you be watching? Will you be supporting the 'Old cargo' combo of Sanchez/Vidal team or the youthful Germans?
The third place match however will be between Portugal and Mexico.... Will Portugal be able to score goals in the absence of Ronaldo?
leave your thoughts below....